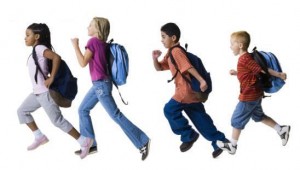 Our growing children are at risk for postural concerns, back pain, shoulder pain, even headaches as a result of carrying a backpack that is poorly fit or too heavy. Their small and rapidly changing frames are often not equipped with the strength and stability necessary to support the weight of their textbooks, lunches, and other school items. It is essential that they begin now to understand how their bodies work, how to fit their backpacks to their bodies correctly, and how to calculate whether or not the load they are carrying is too much for them.
First of all, a backpack should not weigh more than 10% of the child's own weight. Included in this information is a simple chart that can aid in determining if the amount your child is carrying is appropriate. Should the weight of the backpack contents be too great, some of it may need to be carried in the child's arms in front of the body so as to decrease the load on the back.
Second, many children carry their backpacks over one shoulder. This does not allow for the weight of its contents to be distributed evenly throughout the child's body. It is recommended that both straps be used. A backpack with wide, padded shoulder straps is best. Another common problem is with how high or low the backpack sits on the child. The lowest part of the backpack should rest no lower than 4" below the waist. This way, the heaviest weight is centered on the child's back, rather than pulling them over or causing them to lean forward to compensate. Make sure to tighten the shoulder straps to maintain the weight high enough on the body. Additional straps such as a waist belt or chest strap can be helpful to secure the load to the body.
Finally, encourage your child to pack their backpack with the heaviest items first. These items will then sit against the child's back. Lighter items can then be packed furthest from the body. Be careful not to get a backpack with too many compartments which can encourage your child to fill it too much.
Making these few changes now can significantly decrease your child's risk of pain and problems in the future.
At Fox Valley Physical Therapy and Wellness, we offer complimentary backpack evaluations for our clients. We consider postural education and injury prevention to be a vital part of your child's rehabilitation.
Contact us for more information regarding backpack fitting or postural evaluation and training. Call us at 630-549-0511.
Posted on: September 25, 2012 | Bad Habits