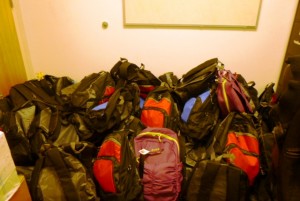 Improper backpack use can contribute to injury, especially to children with young, growing muscles and joints.
Children may experience any or all of these symptoms from improper use of a backpack:
Shoulder pain
Hip, knee, or ankle pain
Back or neck pain
Headaches
Red marks on the shoulders
Numbness and tingling in the arms
Backpack Maximum Weight Chart
(According to the American Physical Therapy Association, American Academy of Orthopedic Surgeons, and the American Chiropractic Association)
Weight of a Child (lbs.)
60
60-75
75-100
100-125
125-150
150-200
Maximum Weight of the Backpack (lbs.)
5
10
15
18
20
25
*No one should carry more than 25 lbs. in a backpack.
Posted on: October 24, 2012 | FVPT In The News